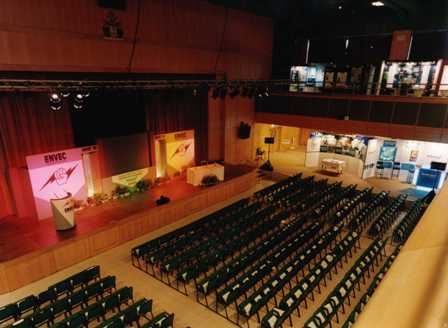 How it all began in October 1993.
The stage set for the first ENVEC, ENVEC '93, Riviera International Conference Centre, Torquay
Held in October each year, ENVEC was the main environmental business networking event in the South West between 1993 and 2009. From the year 2000 ENVEC strengthened its focus on climate change issues so that it gained recognition as the main climate change event in the South West region. Its target audience has been
decision makers in the private and public sectors
energy / environmental / climate change managers
other business professionals
ENVEC included what was probably one of the first major conference presentations in the UK (a first for the SW) in 1995 that made the holistic business case for sustainable development.
From its outset ENVEC was designed to support the event programmes for the South West's Energy & Environmental Management Groups where more technical/management information and local networking opportunities was provided.
The first ENVEC, ENVEC '93, was held at the Riviera International Conference Centre, Torquay on 8th October 1993. After five highly successful ENVECs in Torquay, ENVEC took a break in 1998 and then re-commenced in 1999 at the Winter Gardens, Weston-super-Mare. ENVEC typically attracted 250+ delegates from throughout the South West region and became widely recognised as a major climate change conference in the UK conference calendar.
From ENVEC 2001, ENVEC was run as a climate neutral event - for ENVEC 2001 - 2005 the organisers have invested in projects that reduce carbon dioxide emissions to offset the emissions arising from energy used at the event itself and by delegates travelling to and from the venue. In 2005 ENVEC also made a financial contribution towards the installation of solar PV panels on the roof of the Winter Gardens Pavilion in Weston-super-Mare as part of ENVEC's environmental legacy for the venue. For carbon offsets from 2006 see also "ENVEC wood" below.
From ENVEC 2005, ENVEC was organised in accordance with the principles of the nationally recognised "Greener Events" guide for reducing the environmental impacts of conferences and seminars. That guide can now be found on the SW EEMGs' Notice Board.
The way we obtain and share important information has changed greatly with the advent and increased use of the internet. For this reason the format of ENVEC changed constantly to enable this event to meet the ever changing needs of delegates.
These comments from delegates about ENVEC were typical of comments received:

Global issues related to the South West - very beneficial and relevant...
One of the best events I attend, superb presentations...
Really useful event, particularly networking and sharing similar challenges...
Excellent, quick moving and packed with thought provoking presentations...
ENVEC has re-ignited my enthusiasm and passion...
truly marvellous, I loved it...
I was very fired up afterwards...
epic event...
Singularly one of the most consistently successful events I know of...
Very useful and inspiring...
A well organised, stimulating event...
brilliant, absolutely fabulous, I'm now going to brief all my colleagues...
Some key ENVEC presentations
ENVEC attracted conference speakers of regional, national and international repute. It is not possible to hold all the conference and expert briefing session conference papers on this web page so we have put the complete set from the last ENVEC, ENVEC 2009, together with just a few examples from some of the earlier ENVECs. The graphics have been removed from some presentations to make the files more suitable for downloading from the web. The full list of conference speakers at all 16 ENVECs are listed on this document: hall of fame (word doc).
Click on the blue links to download the conference papers:-
ENVEC 2009 - How can the economic recovery be green? (pdf 131kb) - Peter Madden, Chief Executive, Forum for the Future (text only version)
ENVEC 2009 - Keeping the lights on for business in a low carbon economy (pdf 777kb) - Sid Cox, Director, B2B, EDF Energy
ENVEC 2009 - Emission impossible? - the path to cutting the UK's CO2 emissions by 80% by 2050 (pdf 1Mb) - Fraser Winterbottom, Chief Operating Officer, Energy Saving Trust
ENVEC 2009 - Expert Briefing Session: Demonstrating the UKCP09 climate change projections (pdf 766kb) - by UK Climate Impacts Programme (Dr Paul Bowyer)
ENVEC 2009 - Expert Briefing Session: Carbon Reduction Commitment - the monitoring phase (pdf 666kb) - by EDF Energy (Shayne Rees)
ENVEC 2009 - Expert Briefing Session: Business continuity in a changing climate - would your business stay afloat? (pdf 2.1Mb) - by Environment Agency (Mark Russell)
ENVEC 2008 - Low carbon transport (pdf 1.1Mb) - Professor Glenn Lyons, Director & Professor of Transport & Society, University of the West of England
ENVEC 2007 - Low carbon economy - achieving the necessary step change (pdf 215kb) - Anne Sharp, Director, Domestic Climate Change & Energy, Defra
ENVEC 2007 - If products could talk! (pdf 4.2Mb) - Alan Knight, Commissioner on Sustainable Consumption, Sustainable Development Commission
ENVEC 2007 - Financial risks in a changing climate (pdf 194kb) - Dr Swenja Surminski, Policy Adviser, Association of British Insurers
ENVEC 2007 - Six Degrees - Our Future on a Hotter Planet + Fair Shares, Fair Choice (pdf 3Mb) - Mark Lynas, climate change author, newspaper columnist and campaigner and Sylvie Channon, SSW (Fair Shares, Fair Choice)
The ENVEC 2006 guest speaker was Jonathon Porritt, Chairman of the UK Sustainable Development Commission. Jonathon spoke on the subject of 'Where is the Sustainable Development agenda going?' The key points made by Jonathon Porritt during his presentation on the emerging consensus on climate change were:-
Extraordinary and shocking acceleration in climate change
Massive & overwhelming evidence of change
Recognition of the need to restrict global temp rise to < 2 degrees C
IPCC 4th Assessment Report ( due 2007): 450 ppm CO2 = a 50% chance of irreversible change; 550 ppm CO2 = a 100% chance of irreversible change
Facing non-linear change - reinforcement loops - trigger / tipping points
10 years to make a difference
Engineer a huge transformation - a non-linear response
The alternative is the inevitable disintegration of society
Politicians in denial - how to broker with the electorate?
Opposition to wind power in the South West is "seriously out of date"
ENVEC 2006 - Waste - the growing challenge (pdf 687kb) - Dr Richard Cresswell, Regional Director, Environment Agency (SW)
ENVEC 2003 - The conference presentation "Influencing senior management - getting it wrong" from John Pooley of The John Pooley Consultancy has been incorporated with John Pooley's 2002 presentation into a unique and highly popular guide by GOSW and Envirowise entitled "Resource Efficiency & Corporate Responsibility - Managing Change".
ENVEC 2002 - keynote address and plenary response by The Rt Hon Michael Meacher MP, Minister of State, Defra: 2002 Keynote address and plenary response.
ENVEC 1995 - Text of the ENVEC 1995 ground-breaking* address by Roger Levett of CAG Consultants: The environmental and business case for sustainable development, Roger Levett (pdf 1,273kb).
* This was probably one of the first conference presentations in the UK (a first for the SW) making the business case for sustainable development.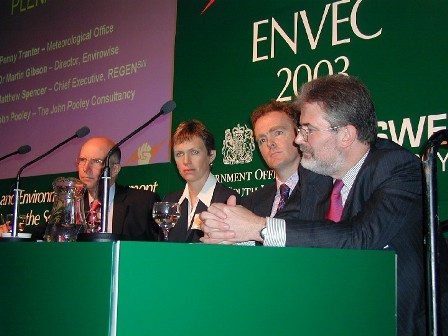 ENVEC 2003 Plenary Session
Martin Gibson (Envirowise), Penny Tranter (Met Office), Matthew Spencer (RegenSW) & John Pooley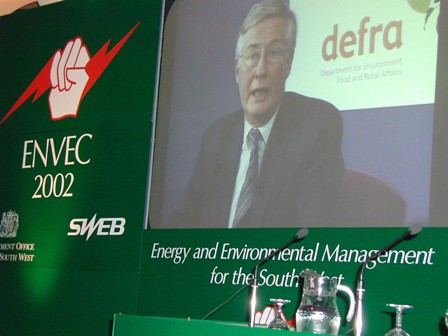 The Rt Hon Michael Meacher MP, Minister of State, Defra, addresses ENVEC 2002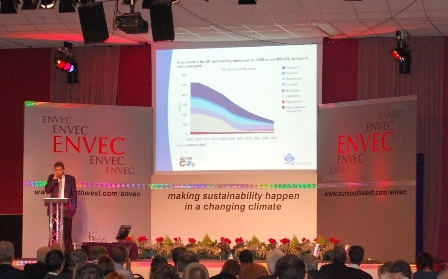 Fraser Winterbottom, Chief Operating Officer, Energy Saving Trust, addresses ENVEC 2009.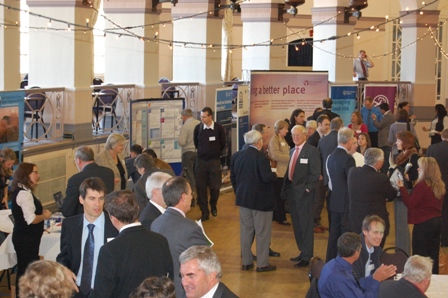 Delegates networking in the Drop-in Centre at ENVEC 2009.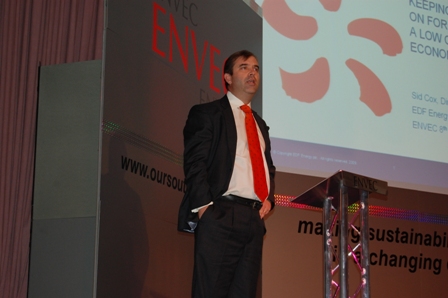 Sid Cox, Director of B2B, EDF Energy, addresses ENVEC 2009.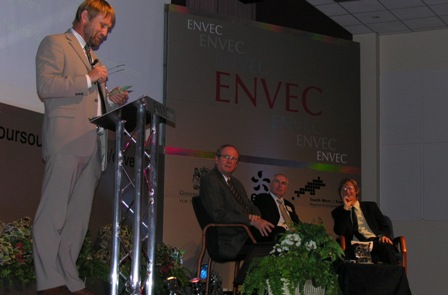 The conference speakers take questions at ENVEC 2008.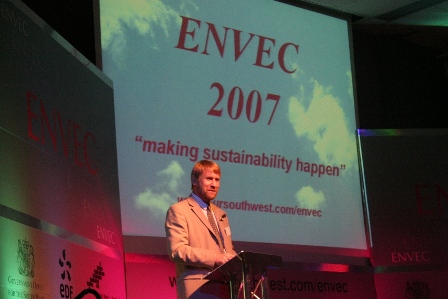 Conference Chairman Richard Cresswell (Environment Agency) addresses the ENVEC 2007 conference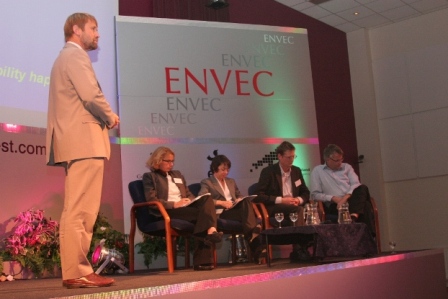 Question Time: The ENVEC 2007 conference speakers and chairman listen to the next question...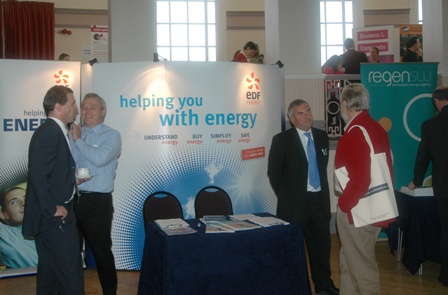 Delegates visiting the 'Low Carbon' information zone at ENVEC 2007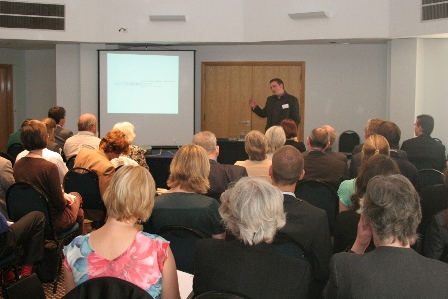 An Expert Briefing Session in full swing at ENVEC 2007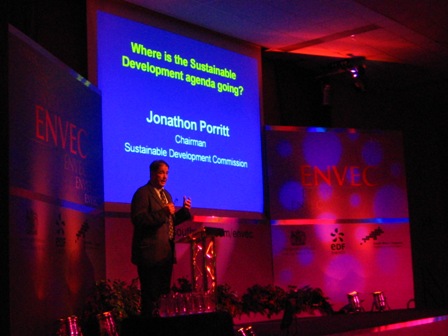 Jonathon Porritt addresses ENVEC 2006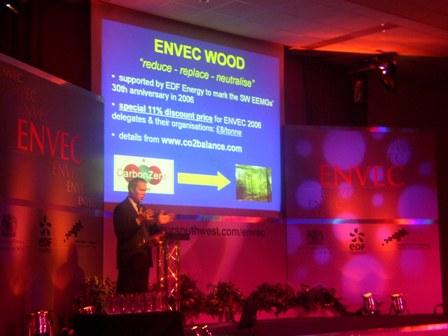 ENVEC WOOD is announced at ENVEC 2006