Low Carbon Hierarchy
The route to a low carbon, climate friendly economy. SW EEMG members and others may wish to use this image for their own promotional work (right click on image and save to your PC):-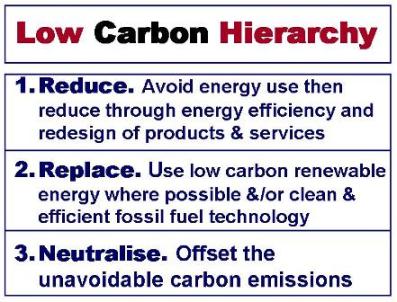 The Low Carbon Hierarchy
The most cost-effective solution for reducing your carbon footprint is to:
1. REDUCE energy use by avoiding unnecessary use and implementing energy efficiency measures. You should include the design of your goods and services and also look up and down your supply chain. Once you have increased your efficiency you should then look to
2. REPLACE fossil fuels with renewable energy sources and/or use cleaner fossil fuel technology such as Combined Heat and Power (CHP) where it is feasible to do so. Finally, having reduced your carbon emissions through avoiding waste, energy efficiency and use of renewable cleaner sources, you can
3. NEUTRALISE the remaining unavoidable emissions through carbon offsetting schemes.
Effective Energy Management Guide
Energy management is not a one-off exercise; to be effective it needs to be an ongoing process. This short guide provides a structured approach that businesses can adopt to manage their energy use effectively.
It is based on the original version produced in 2000 by Phil Harding at the Government Office for the South West in partnership with The Carbon Trust and endorsed by CIMA, the Energy Institute and ESTA. It is aligned to the approach of the European Standard for energy management systems (EMSs), EN 16001, and the equivalent British Standard BS EN 16001.
The guide was last updated in 2010 and is now retained here as a useful archived reference document, especially for those new to corporate energy management.
1. Click here to download the:
Effective Energy Management Guide - (pdf 120kb)
2. Click here to download the supporting:
Quick Start Guide to Energy Monitoring & Targeting (pdf 544kb) - this includes useful advice on how to use the CUSUM technique for energy management.