It is with regret that the A&S EEMG's committee has had to make the decision in July 2018 to close the group due to lack of ongoing participation from a sufficient number of members. This was the first group of its kind set up nationally in 1976 and membership was over 300 at its height.
Subscriptions for 2018 paid by members will be refunded by the group's Treasurer in due course. Existing and potential new members may wish to consider joining one of the other SW EEMGs (see links at top of this page).
There may be an annual meeting including a lecture on a topical subject; if so members at the time of the group's formal closure in July 2018 will be informed and details posted here.
If anyone in the (former) Avon and Somerset area wishes to consider rebuilding this group please contact the current custodians, the most recent post holders as Chairman and Secretary of the group (see contact details on right hand side of this page).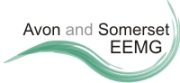 About us | How to join | Links | Notice Board | Showcase


CHAIRMAN: Steve Hodges
Tel: 07533 168788 E-mail: stevedhodges@gmail.com
SECRETARY: Jeff Tatum, Energy Manager, Bath & North East Somerset Council, Property Services, Northgate House, Upper Borough Walls, Bath BA1 1RG
Tel: 01225 477955 (m: 07530 263 103) E-mail: jeff_tatum@bathnes.gov.uk
Constitution (doc rtf)