About the original and ground-breaking 'oursouthwest' project
online sustainability champion
(1999 - 2011)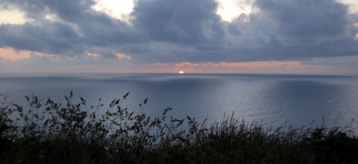 Since its launch in 1999 and up until 2011, www.oursouthwest.com was an on-line champion for sustainability in the South West of England. Its aim was to provide a useful one-stop-shop of internet access to news, information, environmental data, contacts and links for everyone working towards a more resilient and sustainable future for the South West, including business managers, policy makers, environmentalists, teachers, lecturers and school, college and university students.
The editorial policy of this website was to be politically neutral and www.oursouthwest.com has and does not endorse or accept liability for the goods, services or other activities of any organisations featured.
Its role evolved on a continuous basis, as other organisations came and went or developed their own web based resources previously hosted by www.oursouthwest.com.
Following the Coalition Government's decision in July 2010 to close the Government Office Network including GOSW in 2011, www.oursouthwest.com's managing editor, Phil Harding, retained responsibility for the continuing management, archiving and rationalisation of this website (on a voluntary not-for-profit basis). On 7.11.2014 most of the original material was removed from this website but this material can still be obtained via the British Library (see below).
The site now hosts the web pages for the South West Energy & Environmental Management Groups (EEMGs) and a few associated key documents pertinent to the EEMGs.
All those behind the original oursouthwest project are very grateful to regional partners and the many individuals whose work, activities and contributions have been published or highlighted on this website from 1999 until 2011.
Archived material
The British Library has held archived copies of most of the original content of the www.oursouthwest.com website since 2008. If you wish to trace past papers/pages from www.oursouthwest.com you may find such material from this link (the earlier versions of the website held by the British Library have the most content as the Library does not hold duplicate copies of material in later versions):-
https://www.webarchive.org.uk/wayback/en/archive/20100225023628/http://www.oursouthwest.com/
Some of the original topics, key documents and pages held on oursouthwest are listed below and you may be able to find some of these via the British Library (see paragraph above). If you have difficulty locating those documents contact the website editor for assitance and the editor may be able to provide a copy by email if you can provide a clear description of the document that you seek.
Climate SouthWest 2003-2011 (and when previously known as the SW Climate Change Impacts Partnership)
Greener Events Guide. First published in 2005 as a World 1st it has since been copied and adapted across the Globe. Last updated in 2010, it can still be found (archived) on its original page or on SW EEMG website
Low Carbon South West - strategies and actions towards a low carbon future for the SW region
Managing Change Guide (Resource Efficiency and Corporate Responsibility - Managing Change) - this highly respected guide has proved popular with managers, leaders and Business Schools worldwide. It is still on this website and can be accessed from this link: managing change
Millennium Archive - unique archive of what made the SW great at the millennium featuring a biodiversity audit of the SW and with contributions from young people across the region and from partner organisations. Produced in 1998/9 and launched in 1999
Photo gallery - added to mark the project's 10th anniversary in January 2009 and to celebrate the amazing beauty of the SW region
"Quotes Corner" - quotes about the environment, sustainable development and sustainability, business and sustainability, the importance of people and social issues, etc. This was originally created by Phil Harding on www.oursouthwest.com and was transferred to the philharding.net website in August 2010. The purpose of "Quotes Corner" is to inspire (and entertain!) and make the quotes available to others for communicating the sustainability message
Regional Sustainable Development Framework 2001 - the original 2001 RSDF
REvision 2010 - renewable energy targets for the South West region (for 2010)
REvision 2020 - renewable electricity, heat and on-site generation targets for the South West region (for 2020)
Sustainable Business (including "The Sustainability Challenge for Business")
Sustainability South West (originally known as the SW Round Table for Sustainable Development)
Wildlife Friendly Farming Guide
Screen shot images of past www.oursouthwest.com home pages (2003, 2004, 2007 and 2010):-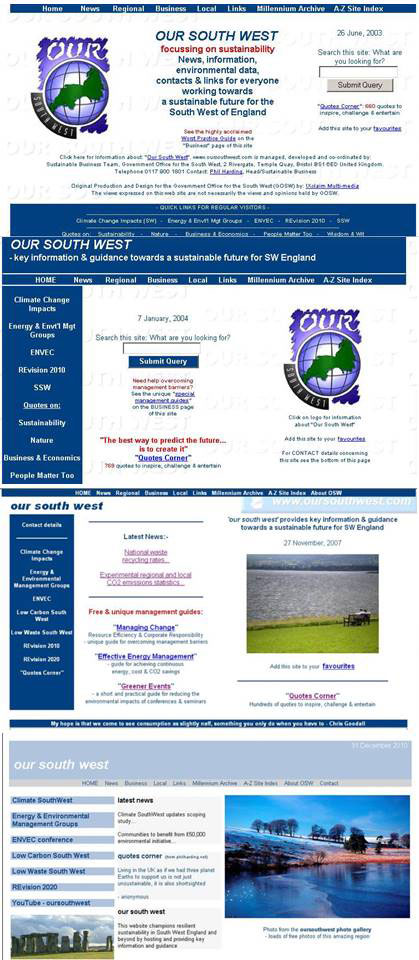 Origins
The original "our south west" project came about after the Government Office for the South West (GOSW) organised a regional consultation conference "Sustainable Futures for the South West" that was held at Bristol Zoo in November 1996. The purpose of the conference was to consult with regional partners and key interest groups on how sustainable development could become more of a mainstream issue for the region.
Outcomes from this conference included the production of "Changing for the Better", a general guide to sustainable development and the South West - this was featured on the www.oursouthwest.com millennium archive, and work that led to the creation of the region's round table for sustainable development, Sustainability South West. One particular recommendation to emerge from the conference was that GOSW should develop a project involving young people and the concept of sustainable development*.
*Sustainable Development (a definition): At its heart sustainable development is the simple idea of ensuring a good quality of life for everyone, now and for generations to come. It is about living within the carrying capacity of the environment so that how we live, work and enjoy leisure activities, does not harm or put undue pressures on the environment. It is about ensuring everyone has the opportunity to have a decent education, a quality environment that they take pride in, good health and a decent job.

Positive approach to sustainability
After consulting with a range of experts, Plymouth Young Persons Agenda 21 (PYPA 21), various contacts and regional partners, GOSW's then "Environment and Energy Management Team" developed a project to promote sustainable development to the region's young people.
The aim was to emphasise the positive side of sustainability by valuing the beauty and diversity of the region rather than concentrating on negative aspects such as waste and pollution. GOSW offered the region's young people an opportunity to identify what they themselves felt was special about the South West at the millennium where they lived. Their views and images of what was special about the region to them so that they would want to secure a sustainable future were sought during 1998; the outcome was featured in a millennium archive called "Our South West".
This unique archive, which also featured special items of interest submitted by local authorities and other organisations and a bio-diversity audit of the South West region, was featured in the "millennium archive".
The name "our south west" was chosen to represent pride, value and a sense of common ownership and responsibility: "this is a great place to be, it belongs to all of us, we all have a responsibility to look after the South West and secure a sustainable future". The original concept of "our south west" was to set a challenge to value what we have - and to care for and protect it by working towards a more sustainable future.
Project launch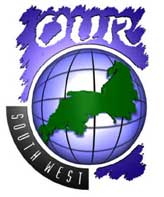 The original 1999
"oursouthwest" logo
Having collected contributions from throughout the region, in January 1999 GOSW launched the "our south west" millennium celebration of "what is great about this part of England" at a televised event in Bristol. The project was launched with its own website, a CD ROM millennium archive and, during 1999, a touring exhibition of selected images from the project which travelled to Bristol, Plymouth, Bodmin, Bridgwater, Dorchester, Yeovil, Salisbury and Tewkesbury.
Over 12,000 visitors had the opportunity to see the exhibition and there was extensive coverage on local TV, radio and in local newspapers. During 1999 nearly 400 SW secondary schools applied for and received their own free copy of the CD ROM millennium archive.
Special "our south west" sustainable development awards were made from October 1999 to October 2001 as follows:-
OUR SOUTH WEST AWARD RECIPIENTS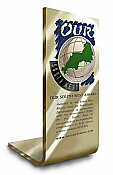 The South West's Energy & Environmental Management Groups: Avon & Somerset EEMG, Cotswold EEMG, Devon & Cornwall EEMG, and Wessex EEMG - October 1999 - for their outstanding partnership work undertaken since 1976 in raising the awareness and skills of energy and environmental managers in the region through the provision of regular training seminars and sharing best practice information.
The Energy Team, Dorset County Council - July 2000 - for the comprehensive campaign undertaken during the 1990s to raise awareness throughout the general population of Dorset on the need to reduce energy and water consumption.
Proper Job, Chagford, Devon - September 2000 - for encouraging the conservation of resources, waste reduction, meeting local needs locally and working in partnership with community groups, local authorities and development agencies.
Plymouth Young Persons Agenda 21 (PYPA21) - October 2000 - for their outstanding work involving young people in the Agenda 21 process through practical and educational projects.
The Special Branch Community Tree Planting Group, Exeter - November 2000 - for their extensive tree planting activities enabling children to directly benefit the natural environment within their own community.
The National Trust - Wessex Region - December 2000 - for the restoration and provision of Prior Park Landscape Gardens, Bath as a good example of sustainable tourism with particular reference to the work undertaken to address local transport issues.
Wiltshire Agenda 21 - May 2001 - for their strategic and practical approach to Local Agenda 21 that has included a wide range of partnership projects.
The Ropewalk Resource Centre, Kingsbridge - June 2001 - for their outstanding work involving adults with learning difficulties in the development of the Meadows Project as an environmental and educational resource.
Wiltshire Wildlife Trust - July 2001 - in recognition of the Trust's outstanding work protecting and raising public awareness and appreciation of hay meadows with particular reference to the Braydon Forest project.
Hanson Quarry Products Europe Ltd - August 2001 - for enhancement and commitment to the long term conservation management of the Trusham Quarry site in Devon to provide wildlife benefits and increased public access.
Avon Wildlife Trust - September 2001 - in recognition of the outstanding work that the Trust has undertaken on wetland restoration in the Gordano Valley to the benefit of important ground nesting birds working in partnership with the statutory agencies and local support.
Willowbank, Stoke St Gregory, Taunton - September 2001 - in recognition of their outstanding work promoting a sustainable solution to riverbank erosion and soil conservation.
Local Sustainability Group for the South West - October 2001 - for producing the South West Sustainable Tourism Guide that provides practical good practice guidelines for tourism in the region.
The original team
The original production team for the "Our South West" project in 1998/99 was led by Phil Harding, Regional Energy & Environmental Officer at GOSW and comprised Martin Boulton - Agenda 21 Co-ordinator, GOSW; Theo Wood, Terri Gough and Rob Stafford of COI - Bristol and, for CD ROM and website design and production, Ian Newton of !Xclaim Multi Media. Other partners involved in the original project included: The Environment Agency (SW), the SW Biodiversity Partnership, PYPA 21, Avon Environmental Education Liaison Group, Devon Environmental Education Working Group, Common Ground, The CREATE Centre (Bristol), Sustainable Somerset, Tony Whitehead (RSPB), Nigel Howe, Wendy Emmett, BBC and Barclays Bank (who sponsored the touring exhibition).
Progress and expansion of oursouthwest
Within weeks of its launch and during the course of 1999, the oursouthwest team at GOSW undertook major development and expansion of the website. This was in response to the perception that emerged during the development stage of the oursouthwest project that a rapid growth in the use of the internet and e-mail was underway for communicating information of all types. The oursouthwest team at GOSW wanted to ensure that all interested parties in the region would be able to readily access key regional and national sustainability information.
The site was to become the region's flagship for promoting sustainable development issues and was probably one of the world's first regional websites dedicated to encouraging and enabling sustainable development at the local, regional and business level.
As society moves forwards in the 21st Century sustainable development will increasingly be seen to be a resilience issue for protecting and enhancing our quality of life within ever decreasing environmental limits.
Sponsorship policy
(Last reviewed November 2014)
Most of www.oursouthwest.com is now an archive record (except for the SW Energy & Environmental Management Group web pages) run on a voluntary care and maintenance not-for-profit basis so it is not, as a general rule, open for sponsorship support from either commercial or not-for-profit organisations although in some limited circumstances this may be permissible to help cover management time and costs. The preferred format is through a text link clearly showing sponsorship of the page (or of the whole website) where the link appears. See also the "Notes" below.
The oursouthwest editorial team does not endorse or accept liability for the goods, services or other activities of organisations featured on www.oursouthwest.com.
Note 1. Any sponsoring organisation should be one that shares the corporate social responsibility (CSR) objectives and values behind www.oursouthwest.com (see the section 'origins' above for definition of sustainable development). The acceptability of the CSR credentials of potential sponsors is at the discretion of the oursouthwest managing editor.
Note 2. Any sponsorship support will be made clear to visitors. Such disclosure is important, just as online and offline consumers want to see the nature of any paid relationships (for example, a newspaper advert headed by the word "Advertisement").
Copyright information
© All material on this site is copyright material from various sources, including: RSPB, English Nature, National Trust, Government Office for the South West, English Heritage, Environment Agency, Government News Network (GNN) - Bristol, Alan Watson, Amy Wynn, R S Key, Phil Harding, Rachel Malone, Elizabeth Cooksey, !Xclaim Multimedia and various other individuals indicated at source. Material from www.oursouthwest.com can be reproduced as long as the source is shown to be www.oursouthwest.com together with any other named author/originator where shown.